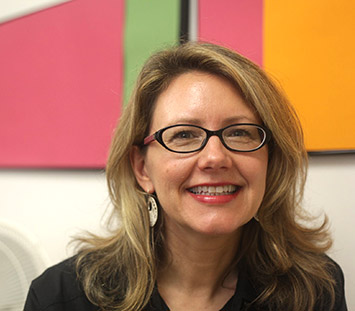 I write plays about people who are desperately holding on to their dreamy illusions. I put my characters in pristine situations—a lovely apartment, a beautiful art gallery, an upscale hotel—and then I burst the bubble big time! For these weird and endearing characters, there is no conventional road map to the American dream. Like me, a girl who came to the big city from rural North Dakota, the journey is bizarre but the intention is full of heart and dead-on, achingly truthful.
Here's my standard blurb for theatre programs: C.S. Hanson's plays have been produced in New York City (Cherry Lane, Theater for the New City, NY Fringe Festival, The Brick, Metropolitan Playhouse, Estrogenius, 3Graces, At-Hand Theatre), Miami (City Theatre), Washington, D.C. (The Source), Pittsburgh (New Works Festival), Denver (The Three Leaches), and Montreal (Gleams Theatre; Montreal Fringe Festival). Hanson's work has been developed thanks to The Lark, Culture Project, EST, Lake George Theater Lab, LaMaMa, Abingdon Theatre, Naked Angels, and New Jersey Rep. Hanson's short play STALK ME, BABY has been produced at universities and colleges throughout the U.S. and in Australia. Hanson has received commissions from the Experimentals at LaMama (George Ferencz, curator) and America-in-Play (Lynn M. Thomson, founder and artistic director) where she was Artist Associate (here's a New York Times article about the group). Member, Dramatists Guild of America.
A couple more highlights: I was a Tennessee Williams Scholar at the 2010 Sewanee Writers' Conference, where my play I COULD NEVER LIVE HERE was workshopped with Beth Henley and Dan O'Brien. Four of my plays have been named Heideman Award finalists at Actors Theatre of Louisville. COMBAT DATING is published in "EstroGenius 2009". City Theatre of Miami honored THE ART OF THE INTERVIEW with a finalist award in its national contest. Kate McLeod wrote this amazing profile of my work.
A little more: I grew up in North Dakota, earned my B.A. at the University of North Dakota, went to Syracuse University for my M.A. degree (Newhouse grad), then headed directly to New York City. A few years in Cleveland followed, after which I came back to my beloved NYC—a place I rarely leave (with exceptions for travel to U.S. theatres for workshops and productions of my plays).